A rich brewing heritage with its origin in 1806 in Tilburg
Enjoyed by consumers in 70 countries all over the world
Leading the import beer market in multiple countries
Brand
Portfolio
Passionate about our work, we at Royal Dutch use only pure, natural spring water and the finest grains and flavorful barley malt give our products their great quality and characteristic taste. We select only the best hops which have been treated with care to ensure our beers have their recognizable bite without being too bitter.
Royal Dutch
Premium lager
A clear golden coloured lager with a smooth, creamy head, a refreshing feel that's thirst quenching.
Style
Alcohol
Taste profile
Lager
0,5-5%
Refreshingly crisp, sweet malt & honey flavours and a slightly bitter aftertaste
Bottle 250 ml (5%), bottle 330 ml (5%), can 330 ml (0,5-5%), can 500 ml (5%)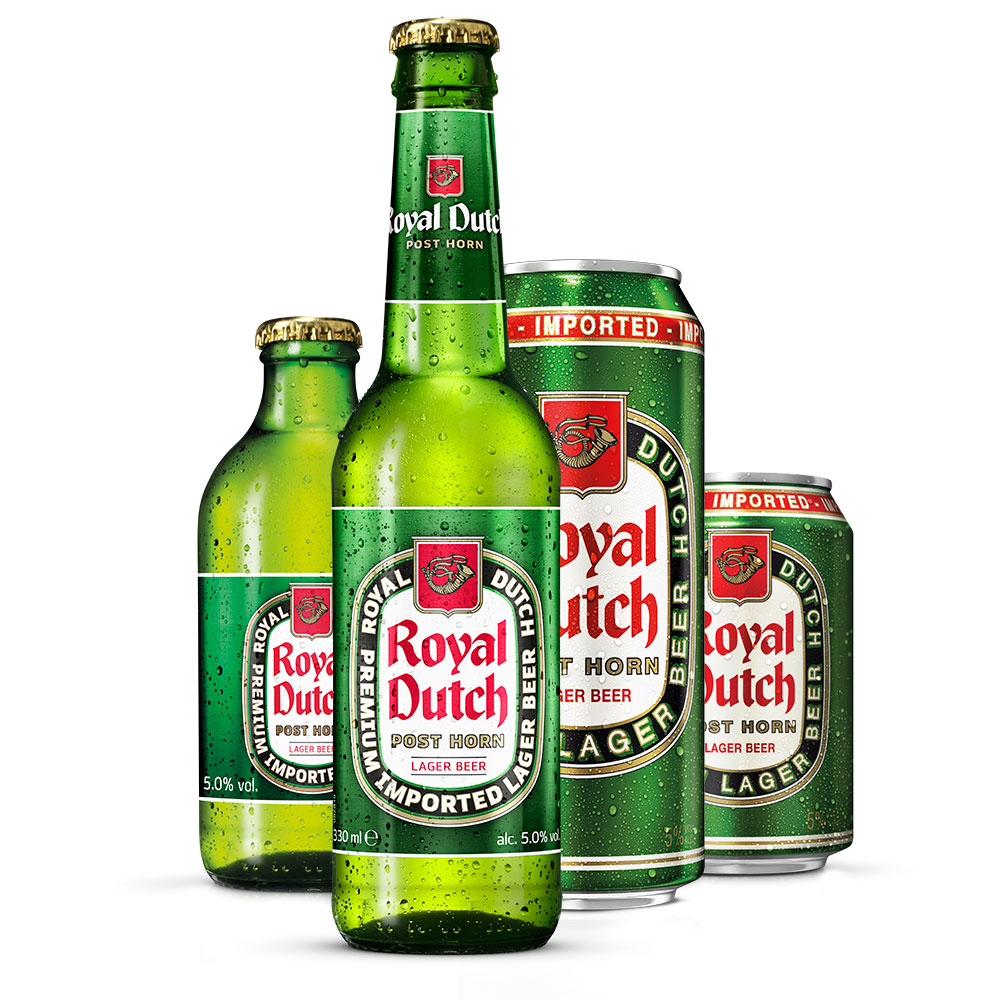 Royal Dutch
EXTRA SMOOTH
Mid-strength lager that is pure and effervescent in appearance with a light body. It's fruity in aroma with a hint of citrus and a slight waft of floral hops.
Style
Alcohol
Taste profile
Lager
4,3%
Smooth, soft, light, subtly sweet and malty with a clean, dry hop finish
Bottle 250 ml, can 330 ml and 500 ml
Brand
Heritage
Royal Dutch's roots go back as far as 1806, when a brew pub called 'De Posthoorn' (post horn in English) was founded in Tilburg, the Netherlands. In 1895, the brewery modernized, expanded and even became the preferred supplier of the royal household. Nowadays, the brand still stands for the impeccable reputation that Holland has to offer when it comes to great quality beers.
Brand
Support
We are committed to building and growing Royal Dutch in your market. Using in-store and on-premise POS materials to generate maximum visibility and increase beer experience. But also via activations to drive sales and rotation. All in the sparkling and welcoming look & feel of the brand and based on global & regional understanding of the consumer.
READ MORE
Discover Royal Dutch on our dedicated brand platforms
Brand
PERFORMANCE
Royal Dutch has a well-established presence in Europe, Africa, the Middle-East and Asia. We have close customer partnerships, developed and maintained by a dedicated sales force. The brand is listed by Walmart, the number 1 retailer in the world, after already supplying key wholesalers like Makro and large convenience stores like El Rosado..
Let's

talk beer
Are you interested in selling our beers in your market? Leave your contact details and we will come back to you a.s.a.p.
United Dutch Breweries B.V.
Druivenstraat 21
4816 KB Breda, The Netherlands
P  +31 (0)76 578 10 00
F  +31 (0)76 578 10 01
E  @uniteddutchbreweries.com